Businesses as reliable development partners: Deputy Director of Customs Reform and Modernization Board Luong Khanh Thiet
VCN - Customs News interviewed Deputy Director of Customs Reform and Modernization Board Luong Khanh Thietabout outstanding achievements, major orientations and solutions in implementing Customs-Business partnership in the near future.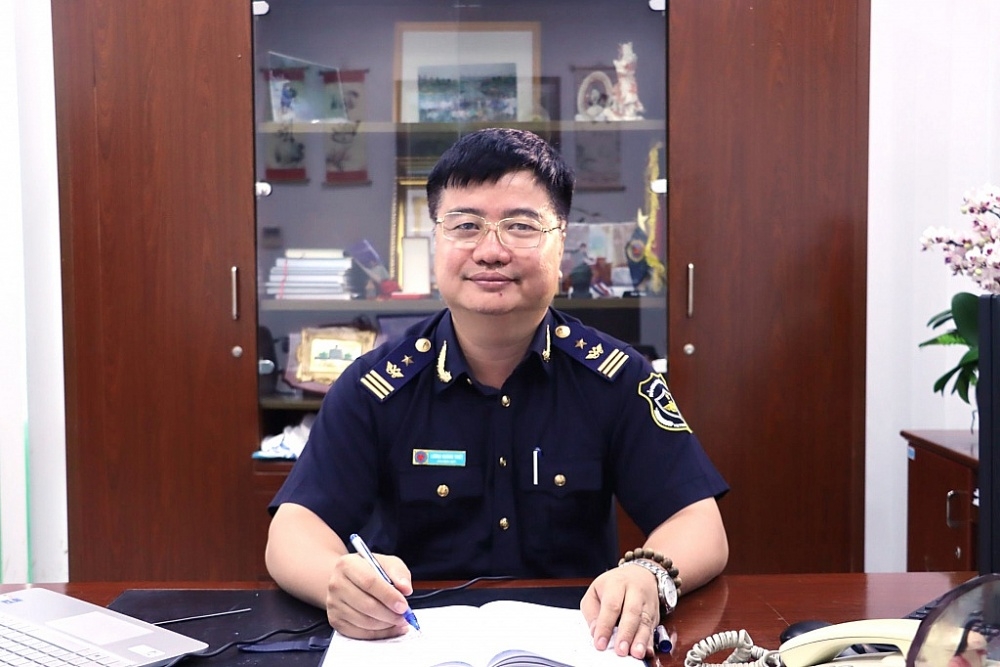 Deputy Director of Customs Reform and Modernization Board Luong Khanh Thiet.
Could you tell us about outstanding achievements in Customs-Business partnership?
The Customs sector has actively developed Customs-Business partnership. Currently, the work has been implemented effectively and appreciated by the Customs, the business community and relevant authorities.
The Customs has focused on providing information, dissemination, legal education to raise awareness of law compliance for customs declarants and taxpayers; created maximum conditions for customs declarants and taxpayers to fully implement their rights and obligation during when carrying out customs procedures for imports and exports.
Regarding consultation activities, the business community and relevant parties have actively participated in developing customs laws, contributing to improving the efficiency of customs control for import and export goods, while creating favorable conditions and promptly solving difficulties for businesses.
Regarding business support, Customs agencies at all levels promote support activities such as guiding the implementation of tax and customs laws; answering questions about customs laws; publicizing compliance levels; training Customs knowledge; organizing dialogues, training, seminars...
The Customs has modernized the customs law enforcement monitoring channel based on the application of information technology solutions. The regulator has expanded modern monitoring channels so that people and businesses have more options to participate in customs law enforcement supervision.
Customs authorities at all levels have promoted cooperation with businesses and related parties; regularly discussed and studied the cooperation needs of businesses, their strengths and capacity to respond to jointly build specific cooperation programs, thereby attracting businesses to participate in cooperation with Customs.
Can you share some typical initiatives applied by the Customs recently?
Typical initiatives in the development of Customs-Busienss partnerships applied by the Customs in recent times have achieved positive results as follows:
The Customs transforms the form of dissemination of customs laws in a modern and appropriate maner (IT application anytime, anywhere); improves the listing of administrative procedures and legal documents at customs check points and customs offices.
The Customs disseminates, consults, supports each group and field of bussinesses in the area to ensure effectiveness in business support activities.
Exchange information about customs procedures and goods policies of countries with common borders to promptly disseminate to exporters to adjust production and business plans in line with the reality and reduce arising cost.
In additonal, local customs units acitvely meet and contact enterprises at their premises, factories and production facilities to understand and remove problems for businesses. At some local customs branches establish and assign working groups to monitor and support enterprises.
Customs authorities apply IT in registering for physical inspection of goods, interacting, and answering problems arising in customs process, thereby helping businesses shorten customs clearance time.
What goals and solutions will be implemented by the Customs sector in the near furture to develop the Customs-business partnership effectively?
The goal of developing Customs-Business partnerships in the Customs Development Strategy to 2030 states that building partnerships between the Customs and trusted businesses to develop the trust in supply chain based on researching, building and implementing the trusted partner program with the participation of exporting, importing businesses and their trading partners in the supply chain.
To develop the Customs-Business partnership more effectively and practically, the Customs always considers businesses as reliable development partners, aiming to build partnership associated with digital transformation in customs control...
Customs agencies at all levels need to research, innovate, and offer solutions, initiatives, and tools to support businesses in customs procedures in accordance with the characteristics of the area and nature of business operation. Assign officers to regularly exchange and capture information on business activities and provide appropriate solutions; answer the recommendations and problems of businesses during the process of customs procedures and clearance.
Gather feedback from businesses on the quality of public service performance in the Customs sector (through customer satisfaction surveys, customs declaration software,...) to improve the quality of public service for people and businesses.
The General Department of Vietnam Customs continues to sign cooperation agreements with business associations based on the proposals and the cooperation process, capacity and reputation of the business association.
The Customs sets the goal of refoming operations, improving quality, and modernizing the development of partnerships so that the business community and stakeholders participate in the Customs reform, modernization, digitalization and transformation. In addtion, improve businesses' voluntary compliance with the law.
Thank Sir!