Ho Chi Minh City's economic motivation from import and export activities
VCN - For the first time in the history of Ho Chi Minh City since the renovation period, HCMC's economy in 2021 will shrink 6.78%. In that gloomy picture, the import and export activities of enterprises, as well as the collection of the State budget in Ho Chi Minh City, are considered outstanding highlights.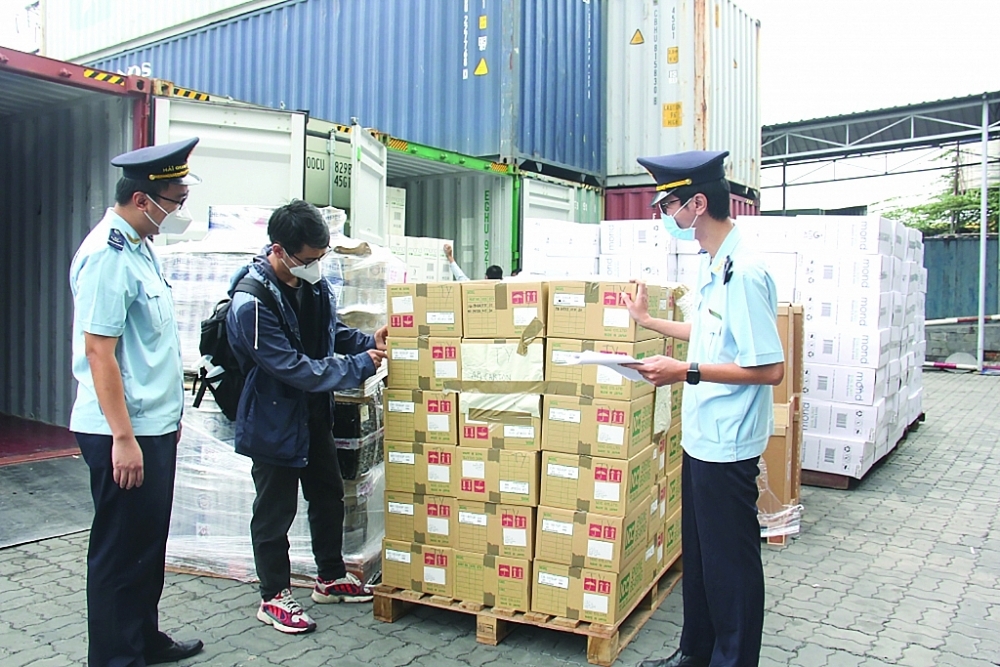 Goods imported through Cat Lai port in Ho Chi Minh City in October 2021. Photo T.H
Import-export goods maintain momentum
The year 2021 was a year full of difficulties and challenges for the socio-economic development of Ho Chi Minh City due to the great influence of the Covid-19 pandemic.
For the first time in the history of Ho Chi Minh City since the renovation period, HCMC's economy shrank by 6.78%, while the plan was to grow by 6%. Along with that, many socio-economic development targets set were not met as planned.
After many months of imports and exports being deeply reduced due to the impact of the pandemic, from October 2021, Ho Chi Minh City gradually opened the economy in a state of new normality. The city has prospered again. According to the assessment of the People's Committee of Ho Chi Minh City, the city has controlled the pandemic and opened production and business activities. Workers returned to the city to find work, while businesses implemented 5K measures to gradually restore production.
The industrial production index of Ho Chi Minh City has improved, the next month is higher than the previous month because the city has controlled the pandemic, and the labor shortage is gradually being overcome. In particular, effectively implementing welfare and support policies for businesses and employees in difficulty, such as preferential loans for severely affected small and medium-sized enterprises, implementation of income tax exemption and reduction. Personal income tax, corporate income tax, loan interest rate reduction have had a positive impact on the production and export activities of enterprises.
In the economic picture of Ho Chi Minh City in 2021, the import-export activities of businesses as well as the state budget collection are considered outstanding highlights.
According to Vice Chairman of Ho Chi Minh City People's Committee Le Hoa Binh, export turnover of goods of HCMC enterprises (excluding crude oil) grew by 2.8%; import turnover increased 24.9% over the same period. Although the Covid-19 pandemic has had a negative impact on state budget revenue in the city, the total state budget revenue compared to 2020 still grew. The increase in revenue mainly comes from positive business results from businesses in the real estate, finance and banking sectors and the impact of the policy of extending tax payment time according to Decree 52/2021/ND. -CP contributing to increasing total budget revenue in the first six months of 2021.
Besides, revenue from import-export activities grew positively, pulling the city's total state budget revenue to the beginning of December 2021 to reach VND362,040 billion, equal to 99.22% of the yearly estimate. This year's budget revenue of Ho Chi Minh City will complete and exceed the assigned target of VND356,000 billion.
Lots of positive signals
In addition to the bright spot in import-export activities and state budget revenue, Ho Chi Minh City's economy also has a number of areas with positive signals, such as 5 of 9 service industries have a good growth rate; total capital mobilization of credit institutions increased by 7.3%; foreign investment attraction increased by more than US$5.8 billion; Remittances to Ho Chi Minh City were estimated at US$6.6 billion, up nearly 9% over the same period last year.
A policy of debt rescheduling and debt freezing to give businesses a chance to recover has been issued by the Government, it is necessary to quickly implement solutions to help businesses get early access to this.
According to Dr. Huynh Thanh Dien, Nguyen Tat Thanh University, helping businesses overcome difficulties is a way to help them operate smoothly. Measures to stimulate demand need to be applied quickly. First of all, speed up public investment to create conditions for enterprises in different industries to participate. Along with that, measures to stimulate personal consumption need to be promoted through actively implementing measures to reduce value-added tax and normalizing shopping activities in the direction of safety.
Besides, Ho Chi Minh City enterprises produce a lot of products for export, this is the market that needs the most attention. Measures to facilitate the circulation of export goods are the top priority at present. The city needs to accelerate the reform of export procedures towards digitization.
In addition to pandemic prevention measures, Ho Chi Minh City is mobilizing the strength of the entire political system, implementing policies to reduce and extend taxes; policies on social insurance, unemployment insurance, and health insurance to maintain business operations in order to create jobs and maintain a minimum income for employees.
At the same time, focus on handling bottlenecks on land; resolving legal conflicts over procedures for land allocation, determination of unit prices, and payment and settlement procedures for capital construction to speed up the disbursement of public investment capital.
In which, priority is given to removing difficulties for projects that are slow to be disbursed, especially key, large-scale, pervasive projects, improving production capacity for the economy; to step up the application of information and communication technology in all administrative activities of State agencies, especially those performing public administrative services and consider this an urgent task in building a government to serve the people; accelerate the digitization of data in all agencies, especially residential data and business data.
With the theme "Safe adaptation, flexibility, effective control of the Covid-19 pandemic", continue to improve the quality of urban government construction, improve the investment environment, accompany businesses. In 2022, Ho Chi Minh City has set a general goal for socio-economic development. The city's priority is to control the Covid-19 pandemic, striving to achieve an expected growth rate of gross domestic product (GRDP) of 6% - 6 .5% depending on the specific situation.
The estimate of Ho Chi Minh City's state budget revenue in 2022 is more than VND386,000 billion, an increase of 5.9% compared to the estimate in 2021. Of which, domestic revenue is about VND259,000 billion, revenue from crude oil is VND10,500 billion and revenue from import and export activities is VND116,500 billion.
By Le Thu/Bui Diep
Article URL: https://english.haiquanonline.com.vn/ho-chi-minh-citys-economic-motivation-from-import-and-export-activities-21220.html
Print Article
© Copyright 2016 Customs News